Dean's Blue Hole
"The world's best freediving location."
Imagine a salt-water swimming pool, with warm, calm waters that run 203m (660 ft) deep, populated by snapper, jacks and colourful tropical fish, patrolled by a school of silver-plated tarpon and visited by curious rays, turtles and tiny seahorses. An underwater cathedral festooned with light and life. This will be your classroom, your playground, your sanctuary...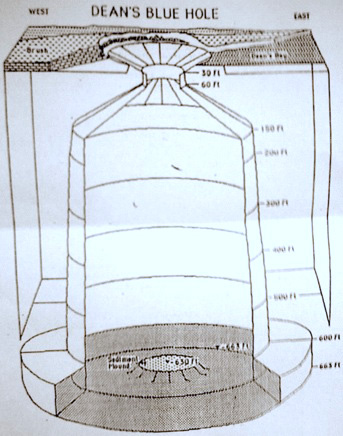 Dean's Blue Hole is the deepest Blue Hole in the world, and the second largest underwater chamber. It is enclosed on 3 sides by a natural rock amphitheatre, and on the fourth side by a turquoise lagoon and powder white beach. Swell and wind don't reach inside the Hole, and visibility is usually between 10 - 30 meters (30 - 100 feet). At the surface the Blue Hole is 25 x 35m (80 x 120 feet), but opens out after 20m (60 feet) into a cavern with a diameter of at least 100m (330 feet) - we still haven't found the edges!
It is still unknown how Dean's Blue Hole was formed exactly, as it is almost twice as deep as any of the other cents in the Caribbean that were formed when limestone chambers caved in from above. One hypothesis is that a much deeper cave slowed and moved upward as its ceiling eroded away.
A school of tarpon hang in the shadows at 20m (65 feet) and friendly turtles sometimes come into the hole for a break from the ocean currents. The coral caves and sand banks on the side of the entrance harbour all kinds of tropical reef life, from tiny shrimps up to groupers and snappers.
CBS News 60 Minutes | "Exploring the depths of Dean's Blue Hole"
Written article here.
Getting Here
It is best to search for flights at http://www.kayak.com with Nassau airport (NAS) as your destination.
Once you have established that route, there are 2 airlines who fly daily to Deadman's Caye Airport (DMC), Long Island from Nassau.
Deadman's Caye airport is about 5-10' from the Blue Hole. DO NOT get off the plane if it makes a stop at Stella Maris airport in the north of Long Island (which is an extra hour's drive).
Accommodation Resources
Harbour Breeze - Vertical Blue collaborates with these modern, self-catering rental villas in Clarence Town, 10 minutes from the Blue Hole. With plush interiors, great views over a perfect lagoon, free kayaks and beach equipment, and competitive prices, these are easily the best places to stay close to Dean's Blue Hole.
Villas can be shared between students for a more social experience. If you are interested in doing this then let us know and we will put you in touch with other students in the course.
Rental vehicles are necessary for transport, and we generally recommend that students share these to reduce their expenses. These can be booked through Harbour Breeze as well, who operate the Unique Wheels Rental
For bookings phone: +1 242-225-7720 or +1242-225-8630 or write to uniquewheelsrental@coralwave.com