Method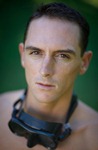 Vertical Blue is a freediving school that draws on the experience and training of 15-time world record holder William Trubridge as well as material from both the Apnea Academy and AIDA International schools of freediving. Apnea Academy International Instructor since 2004 and an AIDA Instructor Trainer since 2012.
We aim to foster an approach to freediving that is founded on the four cornerstones of 'SEAS':
S

afety

E

njoyment

A

wareness

S

tyle
Every training session combines all these elements, so that students are shown ways to develop techniques of style and awareness underwater while operating in maximum safety and enjoyment!
We aim to cater to the student's individual goals also, and the content and direction of courses and especially in-water teaching can be tailored to match these goals a certain extent.
In a Vertical Blue course the theory is integrated smoothly with practical exercises, the mental with the physical, the discipline with the play, in a balanced and holistic approach that promotes learning.
You will investigate the physics, physiology and psychology of freediving as a sport, you will be guided through precise exercises to improve your aquaticity and you will learn how to harness your breath so you can use it as a tool for relaxation and longer and deeper freedives.
In his training for world record attempts Course Director William Trubridge has developed several completely new techniques and training exercises and these are incorporated into the course syllabus in the more advanced courses. They include:
No warm-up diving to enhance dive reflex
Pyramid interval training to build base apnea fitness
Infinite regression' through yogic bandhas
Contingent programming of the unconscious mind